English CBSE Class 12 NCERT Flamingo Poem 2 An Elementary School Classroom in a Slum Free Solution of Textbook Questions and Answers
AN ELEMENTARY SCHOOL CLASSROOM IN A SLUM
(Text Book Questions & Answers)
Answer: (i)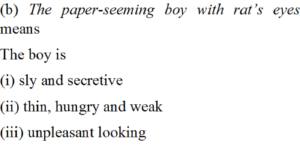 Answer: (ii)
Answer: (i)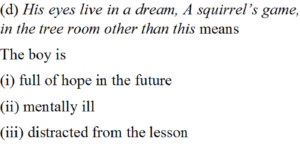 Answer; (i)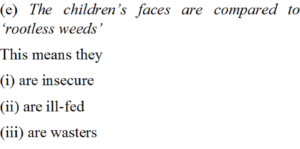 Answer: (iii)

Answer: The colour of the walls is dull yellow colour.
The dull colour of wall signifies dull ambience of the class room. The walls are old, dirty and stale.

Answer: Shakespeare's poster represents education. Poster of buildings with domes represents civilization and prosperity. 'World map' represents endless opportunities. 'Beautiful valley' represents happiness.
The life of children is without any hope, growth, education, opportunities and happiness. This is in contrast to meanings of posters.

Answer: Poet wants that these children should get education, a better living standard and opportunities for growth and happiness.
The government, authorities and public should do everything possible for these children.
****