The Bond of Love Class 9 Textbook Questions and Answers CBSE English Chapter 9 NCERT Beehive
THE BOND OF LOVE
(Textbook Questions)
Thinking about the Text
An orphaned cub – Paragraph 1
Bruno's Food Chart – Paragraph 6
An accidental case of poisoning – Paragraph 8
Playful Baba – Paragraph 12
Pain of separation – Paragraph 14
Joy of reunion – Paragraph 17
A request to the Zoo – Paragraph 18
An island in the courtyard – Paragraph 21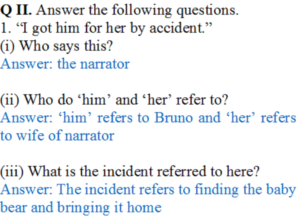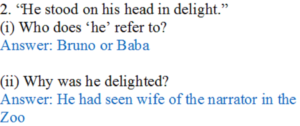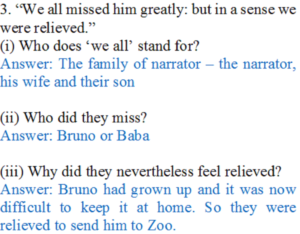 Answer: On first occasion Bruno ate Barium Carbonate which is a poison. He had to be taken to a doctor. Antidote was injected to him. After some time he recovered
On second instance he drank the engine oil. This time nothing happened to him.
Answer: Bruno had grown too big to be kept at home. Tenant's children were small. So Bruno had to be kept chained for most of the time.
Therefore he was sent to Zoo.

Answer: Bruno was not happy at Zoo. Narrator's wife was also sad to be away from Bruno. On their request, custody of Bruno was granted to the family of narrator. They created an island in the compound of their house. It was safe to keep Bruno there.
Thinking about Language

Field
Ingredients
Height
Mischievous
Friends
Eighty-seven
Relieved
Piece

Believe
Receive
Weird
Leisure
Seize
Weight
Reign
Feign
Grief
Pierce
Q IV. 2. Adverbs 

Suddenly
Wantonly
Unfortunately
Promptly

(a) Rana does her homework promptly.
(b) It rains heavily in Mumbai in June.
(c) He does his work carefully.
(d) The dog serves his master faithfully.

(a) We should never get down from a moving train. (never, sometimes, often)
(b) I was badly in need of support after my poor performance. (badly, occasionally, sometimes)
(c) Rita met with an accident. The doctor examined her immediately. (suddenly, seriously, immediately)



It was a cold winter's day, and an ant was bringing out some grains of corn from her home. She had gathered the corn in summer. She wanted to dry them. A grasshopper, who was very hungry, saw her and said, "When did you get the corn? I am dying of hunger."
"I collected it in summer," said the ant. "What were you doing in summer? Why did you not store some corn?" The grasshopper replied, "I was too busy."
"What were you doing?" asked the ant again. "I was singing all day," answered the grasshopper. "If you sang all summer," said the ant, "you can dance all winter."
****
The Snake Trying 
(Textbook Questions)
Answer: People are chasing snake to kill it. The snake is running away to escape from getting killed.

Answer: It is not a harmful snake. It is of green colour.

Answer: The poet has used different words like beautiful, graceful, glides, small and green.

Answer: The poet wants that the snake should not be killed. It should be allowed to run away and live.

Answer: The snake was lying unobserved. It was on the sand and sometimes in the water. It hides behind the slim reeds.
****