Reach for the Top Class 9 Textbook Questions and Answers CBSE English Chapter 8 NCERT Beehive
REACH FOR THE TOP
(Textbook Questions)
Part I
Santosh Yadav
Thinking about the Text

Answer: Normally people requested him to bless them to have a son. But the grandmother requested the 'holy man' to bless Santosh's mother to have a daughter.


Answer: While other girls used to wear traditional Indian dresses, Santosh used to wear shorts.
Answer: According existing tradition of the family, Santosh was sent to local village school.

Answer: Santosh left home for Delhi to obtain higher education.
Her parents wanted her to get married but Santosh wanted to have proper education before getting married. So she left home and took admission in a school at Delhi.

Answer: Santosh had threatened that she would do part time work to pay for her education in Delhi. Her parents did not want her to work for this purpose. So they agreed to pay for her fees.
Through this incident we learn that when Santosh had a strong determination to achieve what was correct and logical.

Answer: While staying in Kasturba Hostel she came across a group of mountaineers. They used to practice at Aravalli Hills. She joined their group. Later she enrolled at Nehru Institute of Mountaineering at Uttarkashi. Thereafter she went for expedition every year and her skills improved.

Answer: Santosh extended special care to a climber who lay dying at South Col. But he could not be saved. She shared her oxygen with a fellow climber Mohan Singh. His life was saved.
Answer: While returning from Mount Everest, she brought down about 500 Kg of rubbish from Himalayas. This shows her concern for environment.

Answer: I took some time to understand the great feat I had achieved. Then I unfurled the Indian flag and held it high at the top of the world. It was a spiritual moment. I felt as a proud Indian. Actually the feeling cannot be described in words.

Answer: During first instance she became the youngest woman to climb Mount Everest.
During second occasion she became the only woman to have scaled Mount Everest twice.





****
Part II
Maria Sharapova
Thinking about the Text

Sl. No.

Points of Comparison / Contrast

Santosh Yadav

Maria Sharapova

1

Their humble beginning

She was born in the small village of Joniyawas of Rewari District in Haryana.

Little Maria had not yet celebrated her tenth birthday when she was packed off to train in the United States.

2

Their parent's approach

Santosh had to make do with the local village school.

Her parents then agreed to pay for her education.

My father was working as much as he could to keep my tennis-training going.

My mother was compelled to stay back in Siberia because of visa restrictions.

3

Their will power and strong desire to succeed

She saved money and enrolled in a course at Uttarkashi's Nehru Institute of Mountaineering.

Equipped with an iron will, physical endurance and an amazing mental toughness, she proved herself repeatedly.

Instead of letting that depress me, I became more quietly determined and mentally tough.

I never thought of quitting because I knew what I wanted.

4

Evidence of their mental toughness

Her climbing skills, physical fitness, and mental strength impressed her seniors,

I am very, very competitive. I work hard at what I do. It's my job.

5

Their patriotism

The Indian flag was flying on top of the world. It was truly a spiritual moment. I felt proud as an Indian.

My blood is totally Russian. I will play the Olympics for Russia if they want me.
Thinking about Language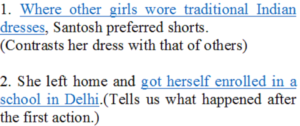 ****
On Killing a Tree
(Explanation)
Thinking about the Poem
Answer: No, a single jab of knife cannot kill a tree.  From the point a tree is cut, new twigs and leaves will soon start growing. If unchecked it will again become a fully grown tree.
Answer: The draws nutrients from the crust of the earth. Since many years it has been absorbing sunlight, air and water. Through this process the tree has grown to full size.

Answer: Whenever a twig or a branch of a tree is cut, a liquid material comes out of the broken part. When any part of the human body get a cut, blood comes out.
Owing to this similarity the phrase 'bleeding bark' has been used.

Answer: It implies that hacking, chopping or cutting will not kill the tree.

Answer: The earth provides support to the roots of tree. So it is called 'anchoring earth'.
When a trees with its roots is uprooted, a big pit is created on the earth. Till then roots have been spreading below the earth.  Hence the term 'earth cave' has been used.

Answer: The root provides strength to a tree to stand of the ground. When a tree is uprooted, roots are visible. Thus author says that 'the strength of the tree exposed'
Answer: After the tree is uprooted from the earth, it starts wilting. It leaves and branches start becoming brown. These get dried.  These get twisted and withered. The tree gets killed.
****