FORMAL LETTER OF ENQUIRY
EXAMPLE 1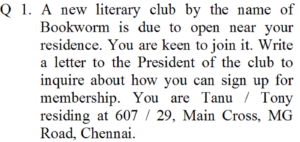 Tanu,
607 / 29, Main Cross,
MG Road,
Chennai.
12th March, 20XX
To,
The President,
Bookworm Literary Club,
Chennai.
Sub: Enquiry about membership of club
Dear Sir,
I came across the advertisement about opening of the Literary Club. I was very happy to go through it.
I am a student of Class 11 and studying in a nearby school. I had scored 95% marks in my board exam for class 10. I would like to join the proposed club to enhance my interest in literature and further my readings.
I request you too kindly provide me with following information –
1. Availability of newspapers
2. Availability of books for children
3. Periodicals' availability
4. Monthly fees
5. Timings for the club
6. Any other relevant information
I request you to kindly provide above details at your earliest so that I can convince my parents to permit me to join the club.
Yours Truly,
Tanu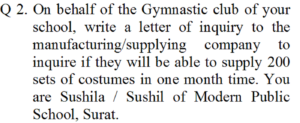 Sushil,
In- Charge,
Gymnastic Club,
Modern Public School,
Surat.
18th Nov, 20XX
To,
In-Charge,
Best Costumes,
Surat.
Sub: Enquiry about supply of costume for gymnastic club
Dear Sir / Madam,
I have learnt through internet that you are one of the best organisations to supply costumes for school children
Our school, Modern Public School would be starting a Gymnastic Club for its students. We intend to procure costume for our member students. Each set of costume shall have an upper part and an ankle length lower part. The costume needs to be of stretchable cotton fabric made in light orange colour. Following is the requirement –
| | | |
| --- | --- | --- |
| Description | Size | Quantity |
| Full sleeve costume | SL | 25 |
| Full sleeve costume | XL | 50 |
| Full sleeve costume | XXL | 25 |
| Half sleeve costume | SL | 25 |
| Half sleeve costume | XL | 50 |
| Half sleeve costume | XXL | 25 |
Please send your quotation for above items to reach us within next ten working days. Please confirm that you will supply above material within one month from date of placement of order. 
Please specify applicable taxes. Also attach the price list and indicate the discount offered on it.
Thanking you,
Yours Truly,
Sushil
****