FORMAL LETTER OF ENQUIRY
EXAMPLE 4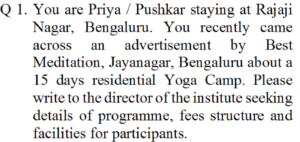 Priya,
Rajaji Nagar,
Bengaluru.
12th Sep, 20XX
To,
The Director,
Best Meditation,
Jayanagar,
Bengaluru.
Sub: Details about residential yoga camp
Dear Sir / Madam,
I have come to know about the proposed residential yoga camp through a pamphlet that came with newspaper.
We have discussed this within our friends. We are keen to join the camp. I request you to provide me following information about the camp –
1. Commencement date
2. Reporting date
3. Facilities available for participants
4. Fees structure and mode of payment
5. Daily schedule during programme
6. A brief of yoga teachers
7. A brief about other speakers
8. Date by which confirmation is required
I request you to kindly provide above details at your earliest so that we can chalk out our plan of enrolment.
Thanking you,
Yours Truly,
Priya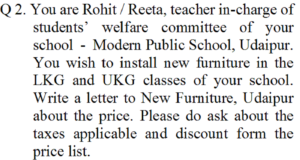 Reeta,
In-Charge, Students' Welfare Committee,
Modern Public School,
Udaipur.
23rd April 20XX
To,
New Furniture,
Udaipur.
Sub: Enquiry about new furniture
Dear Sir / Madam,
We have been buying furniture for our school from you since last many years.
We have decided to change furniture of LKG and UKG classes of our school. In all we have four sections and each section has twenty students. We need to buy following items –
| | | |
| --- | --- | --- |
| S.N. | Description | Quantity |
| 1 | White board 4'x8' | 4 |
| 2 | Low height plastic moulded chairs | 80 |
| 3 | Low height plastic moulded tables | 80 |
| 4 | Wooden table for teacher | 4 |
| 5 | Steel chair with cushion for teacher | 4 |
| 6 | Steel chair without cushion for attendant | 4 |
All the furniture should have round corners and be free from any sharp edges and splinters.
I request you to send your quotation for above items latest by 30th April 20XX. Please clearly mention taxes applicable and discount admissible.
Thanking you,
Yours Truly,
Reeta
****