FORMAL LETTER – COMPLAINT
EXAMPLE 2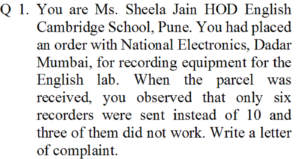 Ms Sheela Jain,
HOD English,
Cambridge School,
Pune.
19th April 20XX
To,
National Electronics,
Dadar,
Mumbai.
Subject: Short supply and defective supply
Dear Sir / Madam,
We had placed an order for purchase of 10 recorders to you through our Purchase Order dated 10th Mar 20XX. Money was remitted on-line via ICICI Bank through transaction id 678902 on 12th Mar 20XX.
Today we have received a parcel from you. The parcel contains only six recorders while the order was for ten pieces. Out of six pieces received only three were found in working condition.
A conference is scheduled in our school during first week of May 20XX. It is mandatory to have all the 10 recorders installed during this conference. Non-compliance of this requirement would speak very badly about our school.
I request you to pay your attention to the problem. Please ensure that the remaining six recorders reach us within next seven days.
Yours Sincerely,
Ms Sheela Jain
Enclosure:
Copy of PO

Screen shot of successful online payment

Photo of defective recorders
Deepika,
26, Dwarka,
Delhi.
25th Jan 20XX
To,
Electronics India,
Delhi.
Subject: Problem in spin dry system of washing machine
Dear Sir / Madam,
I had purchased a Samsung washing machine model W 72 from you on 15th Nov 20XX. The cash memo number is 7564.
The machine worked well for initial period of three months. But now its spin dry system is not working properly. It is making lot of noise. Clothes do not get dry. Rotation of tub stops much before the timer.
I request to depute your service engineer immediately to rectify the defect. In case the defect cannot be corrected please replace the machine.
I am very hopeful that you will take this on priority.
Yours Sincerely,
Deepika
Enclosure:
Cash Memo

Photocopy of guarantee card
****