FORMAL LETTER – INVITATION
(Example 2)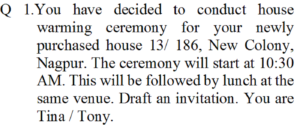 Mr. and Mrs. Tina
request your gracious presence
to bless us on the occasion of
House Warming Ceremony
of our house
 at 13/186, New Colony, Nagpur on
20th Nov 20XX
The ceremony will start at 10:30 AM
This will be followed by lunch
RSVP                                                                                     With best compliments from
Tina                                                                                                                                 Sunil

PR Silver Arts, Kolkatta
cordially invites you to the
Exhibition cum Sale of
Gold Plated Silver Coat Buttons
at
ITC Hotel Art Gallery
Kolkata
On 30th Nov, 20XX
10:30 to 19:30
PR Silver Arts                                                                                    PR Jain
13/176, New Market                                                                          91xxxx
Note: sale through credit cards and debit cards only.

Rakshit,
Principal,
Simple School,
Patna.
15th Feb 20XX
To,
The District Magistrate,
Patna,
Subject: Invitation to be chief guest of Annual Function of our school
Dear Sir,
Our school, Simple School is one of the reputed schools of Patna. Students of this school have joined various reputed institutes for higher studies. We have decided to celebrate the Annual Function of our school on 26th Feb 20XX.
We request you to kindly accept our invitation to be the chief guest on this occasion. We also request you to give away prizes on this important day of our school.
Thanking you,
Yours Truly,
Rakshit
+91xxxxx
****