FORMAL LETTER – INVITATION
(Example 4)

Mr. and Mrs. P Sunderam
request your gracious presence
to bless their grandson who was born two months ago
A dinner party has been organised at
Banquet Hall
Modern Hotel
MG Road, Chennai
Date: 20th Aug 20XX
Timings: 19:30 to 22:00
RSVP                                                                                  
P Sunderam                                                                      
+91xxxx                                                                              
Dress Code: Green and Yellow
Gifts in the form of blessings only.

Principal, Staff and Students of
New Field School
solicit presence of parents and SMC members of the school
during inauguration and sports events of
The Annual Sports Day
The inaugural function will be held on
30th Sep, 20XX at 09:30 AM
Details of programme
welcome by the Principal
march-past by students
address by chief guest
daylong sports competitions
RSVP                                                                    Humble request from
Shekhar                                                                                      Principal
Sports In-charge                                                                              Staff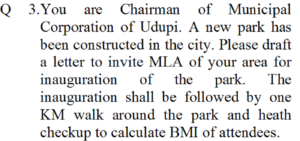 Vivek Patil,
Chairman,
Municipal Corporation,
Udupi.
15th Dec 20XX
To,
Honourable MLA,
Udupi Constituency,
Karnataka.
Subject: Invitation to be chief guest at inauguration of park
Dear Sir,
I would like to bring to your kind notice that a new park especially built for morning walker and daily exercisers has been constructed in the heart of the city. Inauguration of the park is scheduled on 21st Dec 20XX at 07:30 AM.
We request you to kindly accept our invitation to be the chief guest for the inauguration of this park. The inauguration would be followed by about 1 KM walk around the park. A free health check-up for calculating BMI of the general public has also been organized on that day.
Thanking you,
Yours Truly,
Vivek
****