INFORMAL LETTER – INVITATION
(Example 2)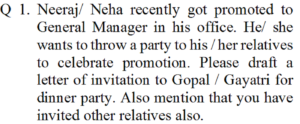 Neeraj,
76, Crescent Building,
Bengaluru
12th April, 20XX
Dear Gopal,
You would be happy to know that I have been recently promoted to General Manager. I feel it is an occasion to enjoy some quality time with relatives
I have decided to host a dinner party at hotel Special Guest, MG Road. The party will commence at 6:30 PM and end at 10:30 PM. I have invited our other relatives living in the city.
Request you to please join the party with all family members.
Yours affectionately,
Neeraj
****