LETTER TO EDITOR
EXAMPLE 2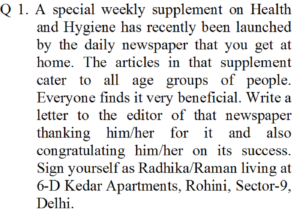 Raman,
6-D, Kedar Apartments,
Rohini , Sector-9,
Delhi.
12th Feb 20XX
To,
The Editor,
Hindustan Times,
Delhi.
Subject: Your weekly supplement on Health and Hygiene
Dear Sir / Madam,
I am an ardent fan of the weekly supplement on Health and Hygiene of your newspaper. Thank you very much for taking such an initiative through your newspaper.
During this era each of us is getting bombarded by semi-truths through social media. Most of such posts are merely a means to push sale of their own products and services. While your weekly magazine is presenting well researched articles written by experienced people in their own fields. Each article of your magazine is just like a flow of fresh air.
The articles in the last week on personal hygiene and daily exercise routine were really par excellence. The article articulating ill effects of crash diet was an eye opener.
Almost everybody in our locality reads it. Its contents are discussed amongst people of all age. I feel including articles on how to keep away from social media would be great help to readers.
Yours Sincerely,
Raman
(A fitness freak)
Shivam,
34 – Gulmohar Road,
Alaknanda Estate,
Ropar.
09 June 20XX
To,
The Editor,
Sachhi Khaber,
Ropar.
Subject: Summer camp in government schools
Dear Sir / Madam,
Through the column of your esteemed newspaper I would like to elucidate good work being done in government schools through summer camps. These camps are organized by Directorate of Education
The 15 day summer camp started on 20th May, three days after commencement of summer vacations. We are being taught Yoga, Meditation, Vedic Mathematics and English Grammar. There are several group activities that foster team building and the evening is full of games. Everyday a specialist talks about certain aspects. A dietitian, physiotherapist, paediatrician and a career counsellor has already talked to us.
Arrangements for stay are quite comfortable. Only three students are accommodated in a room. They have also ensured uninterrupted power supply. However cleanliness of wash rooms is an area of improvement.
I request you to publish this letter in newspaper. It will ensure wide publicity to a good initiative. It may motivate parents to send their kids to such camps.
Yours Sincerely,
Shivam
(Class 11 student)
****