LETTER TO EDITOR
EXAMPLE 4
Parth,
M 261, Pitam Pura,
Delhi.
21st Jan 20XX
To,
The Editor,
Times of India,
Delhi.
Subject: Quarrel over parking space
Dear Sir / Madam,
I am writing this letter to you to bring forth the everyday fight happening among residents of our locality over parking of vehicles.
Houses in our locality are small. Everybody is parking their cars on sides of road. Over the years number of four wheelers in our locality has increased manifold. Thus there is dearth of place. People quarrel with neighbours over parking space. Such skirmishes frequently turn into vulgar verbal exchange.
We the kids feel that just a wee bit more care while parking vehicles, can make situation easy for all. The need of the hour is an empathetic attitude. We have started a campaign to request every elder to show concern to others.
Through this letter I want to appeal to our elders to provide a friendly environment in our colony. An article in your newspaper would hopefully initiate a discussion among elders and a wiser counsel shall prevail.
Yours Sincerely,
Parth
(Member of Smart Kids Group)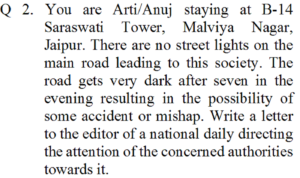 Arti,
B – 14, Saraswati Tower,
Malviya Nagar,
Jaipur.
July 23, 20XX
To,
The Editor,
Times of India,
Jaipur.
Subject: No street lights
Dear Sir / Madam,
I am a resident of Saraswati Tower, Malviya Nagar, Jaipur. Through the column of your esteemed newspaper I would like to highlight absence of street lights in our colony.
About half a KM long approach road to our colony does not have street lights. It is totally dark after 7 PM. Workforce returning from their offices and students returning from tuition are worst affected. It is really frightening to walk on such a dark road. The days may not be far off that miscreants start their nefarious activities.
We had submitted an application that our locality will collect funds for purchase of street lights. The civil authorities should get these installed. Surprisingly even this proposal has not been accepted.
I request you to publish this letter in your newspaper. It will draw attention of civic authorities towards the needs of a large number of people of the city.
Yours Sincerely,
Arti
(A junior citizen)
****