LETTER TO EDITOR
EXAMPLE 5
Yashita,
Kochi.
May 31, 20XX
To,
The Editor,
Times of India,
Kota.
Subject: Dearth of accommodation for students
Dear Sir / Madam,
I am writing this letter to you to express difficulties being faced by students coming to Kota for coaching.
It is estimated that every year about 2 lac students from every part of country come to Kota for taking coaching. Accommodation is a major area of concern. Hostels attached with coaching institutes are meagre. Landlords and PG Hotels demand exorbitant price. General upkeep and hygiene is poor. Some of these are not safe for girls. Such situation is adversely affecting students.
I believe coaching institutes should have tie up with PG Hostels. They should certify these as 'Verified by Resonance" etc. People from coaching institutes should pay regular visits to hostels to ensure that hostel owners maintain good hygiene.
Publication of this letter in your newspaper will draw attention of coaching institutes. I appeal to them to help their students resolve their major concern.
Yours Sincerely,
Yashita
(NEET aspirant)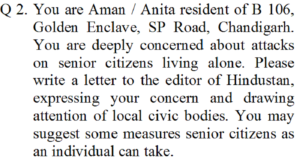 Aman,
B 106, Golden Enclave,
SP Road,
Chandigarh.
July 23, 20XX
To,
The Editor,
Times of India,
Chandigarh.
Subject: Vulnerability of senior citizens
Dear Sir / Madam,
I am a resident of Golden Enclave, Chandigarh . Through the column of your esteemed newspaper I would like to highlight vulnerability of senior citizen of our locality.
Recently many senior citizens living alone in our locality have been attacked. They were beaten, their valuables and other belongings from the house were taken away. While some incidents had occurred during night, others had occurred during afternoon. The description of miscreants by several affected persons is similar. Probably a small group is repeatedly executing such instances.
Senior citizens must install a ringer to sound in case of emergency. They must store emergency numbers in their mobile. Before opening door they must peep through the magic eye of the door.
I request you to publish this letter in your newspaper to increase awareness among general public.
Yours Sincerely,
Aman
(An enlightened citizen)
****