REPORT WRITING
(Example 1)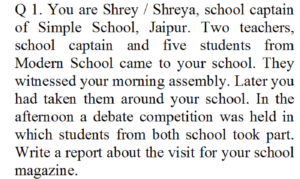 Visit by Modern School
(By Shreya, Class XII- C)
In the afternoon of Saturday, 17th Oct 20XX, I was called in the office of Principal. She informed me that on Monday two teachers, school captain and five students from Modern School would be visiting our school for a day. I was asked to reach about half an hour early on Monday and to take the team around the school.
At 09:25 AM the team arrived in a minibus. I took the team to the morning assembly. After that I took the team to staff room of our school. Our Sports Teacher joined me there. I informed them about achievements of school in academics and sports. We showed them our auditorium, sports centre, playground, library and other facilities. During recess time, Principal and monitors from class VI to XII joined for lunch. That was a good opportunity for interaction between students.
In the afternoon an extempore debate competition was held. Four students from each school participated. Mementos were presented to each member of the team by our Principal. School captain of the Modern School gave vote of thanks and a teacher extended the invitation to our school to visit their school.
They left our school at 03:30 PM.

Health Camp at ABC Hospital
(By Special Correspondent)
18th Dec 20XX
Keeping good health is so important to everyone. It comes through the improvements made in life style. This was the theme of the day long Health Camp organized yesterday at ABC Hospital.
Various posters were displayed illustrating the advantage that can accrue by having a daily walk. The chart indicated distance to be covered at various stages of age. It was certainly one of its kind.
Measurements of BP, Sugar and BMI were getting carried out in the camp free of cost. Five stations for each test were made to reduce overcrowding.
The next section covered display of various postures of yoga and its benefits. After interval of every hour there was talk by a renowned yoga teacher of city.
Services of two dietician were made available to advise ladies about need of nutrients at various stages of life. There was a separate section to advise adolescent girls.
However, absence of eye checking facility was noticed.
The camp had started at 09:00 AM and continued till 04:00 PM. Every visitor was happy and found the camp very useful. ABC Hospital deserves appreciation for taking up such a good initiative.
****