REPORT WRITING
(Example 3)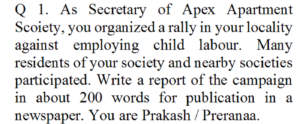 Say No To Child Labour
(By Preranaa, Secretary Apex Apartment Society)
15th Nov 20XX
During first week of November we had our usual meeting of society. During the meeting I suggested to have a rally in our locality against deploying child labour. This was readily accepted and we decided to conduct rally on 14th Nov – The Children's Day.
We gave responsibility of making posters and placards to kids of society. Children of nearby society informed their parents about our preparation. Three nearby societies approached us to pool in resources to make it a big rally.
One society volunteered to make banners. Another arranged for sound system and the third society arranged for water during the rally. We decided to start rally from our society and upto the industrial area close to our locality. We took permission from local administration for the rally.
We all assembled at 9 AM. Residents of all age including kids had come to the rally. Administration deployed two policemen to escort the rally. In the industrial area, officials from almost every establishment came out and declared that no child labour was deployed in their factories.
Around noon we reached back to the starting point. We all promised that we shall not employ any child labour as domestic help. It was a highly satisfactory effort.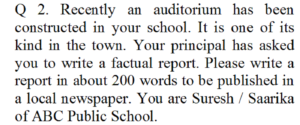 Modern Auditorium at ABC Public School
(By Suresh, Class XII – A)
18th Dec 20XX
ABC Public School is a well-known name in the town for it excellent infrastructure, academic excellence and extra curricular activities. A modern auditorium is yet another feather in its cap.
It is equipped with modern light system without any glare. However loud be the music, the sound is clear and free from echo. The auditorium has a seating capacity of 800 people.
There are separate make up rooms for male and female artists. Make-up rooms are large enough to accommodate 20 people. It has two dressing tables. Each make up room has been provided with two washrooms.
This auditorium has a permanent stage so any programme can be organized with notice of just one working day. The stage is so wide that a group dance of upto 18 artists can be held. It has provision for putting three curtains.
The external appearance is a mix of classical and modern architecture. Colour combination is soothing to eyes. Entire auditorium is provided with central air conditioning and heating system. Three washroom facilities for male and female visitors are provided.
We all students are proud to have such a good auditorium in our school.
****