NOTICE WRITING
(Example 5)

PQR Public School, Nagpur
NOTICE
Date 26th Feb, 20XX
Social Initiative through Goonj
Our school is associated with an NGO named Goonj for taking up social initiatives. We request every student to donate old books, cloths, books and bags. These can be deposited at the main store of the school. Material collected will be used for helping underprivileged children. Last date for donation is 10th March 20XX.
XYZ
Cultural Secretary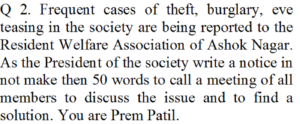 Residents' Welfare Association
Ashok Nagar
NOTICE
22nd Feb 20XX
General-body Meeting
Many instances of theft, burglary and eve-teasing have been reported in the society premises. A meeting of all members is convened on 27th Feb 20XX at 10:30 AM to discuss the possible steps our society should take to prevent such instances.
Prem Patil
President
Residents' Welfare Association
****