ADVERTISEMENT
(Example 3)

SITUATION VACANT
A post of receptionist is vacant in Saket Public School, Kota which is affiliated to CBSE. The candidate should be a graduate with experience of about 5 years, smart and able to fluently speak English and Hindi. Working knowledge of computer is must. Please send resume within 10 days to principal@saketschool.com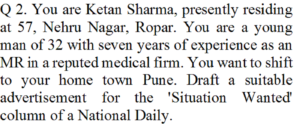 SITUATION WANTED
I am a well-qualified MR, presently working at Ropar, having an experience of plus 7 years with reputed company. I am energetic, polite and result oriented person. I am on the lookout for a job in my hometown Pune. Salary negotiable. Ready to join within 15 days. Please contact on +917689xxx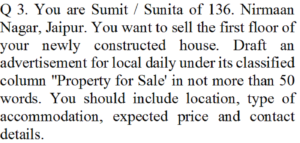 FOR SALE
Immediately available for sale is a newly constructed first floor 3 BHK house located at 136, Nirman Nagar, Jaipur. The house has vitrified tiles, modular kitchen and anti-skid tiles in wash rooms. A separate entry and stair has been provided. Purchaser will not have any right on terrace. Expected price 75L. Please contact Sumit +919876xxx

FOR PURCHASE
Required for immediate purchase a 2 BHK flat in Rajaji Nagar in Bengaluru in a reputed society less than 10 year old. Proximity to school and market is required. Availability of power back up is desirable. Price negotiable but less than 75 L. Please contact Ranveer +919854xxxx

MISSING
My 10 year old brother, Tonny is missing from our Pranaam Residential Society, Station Road, Indore since last two days. When last seen, he was wearing a red T-shirt, brown pant and white sports shoes. He is about 4'6" and can fluently speak Hindi and English. Anybody who finds him should contact  +91654xxx. Suitable reward shall be given.

TOURS AND TRAVELS
A well established travel agency Sangam Travels, Jalgon announces 3 nights 4 days holiday package for Goa. Travel through AC sleeper bus, pick up from Jalgaon and Nashik. The package includes stay in a 3 start hotel on twin sharing basis, site seeing and vegetarian food. Interested persons can contact Amit on +918765xxx

MATRIMONIAL FOR BRIDE
Marriage proposals are invited for my 27 year young son who is employed in army to the rank of Captain. The girl should have pleasing personality, height about 5'7" and fluent in English. Cast and religion no bar. Proposal can be mailed to Col (Retd) SM Singh (+912345xxx) at sms@gmail.com

CHANGE OF NAME
My name as per class X certificate is Kusum Sharma. It is to notify to everyone that after my marriage to Mr. Prakash Joshi, 12, Vinayak Nagar, Jaipur, I have changed my name to Kusum Joshi. Thus henceforth I shall be known and addressed as Kusum Joshi.
****