ADVERTISEMENT
(Example 4)

SITUATION VACANT
ABC Ltd, SEZ area, Andheri, Mumbai needs a qualified IT professional to maintain its IT system in good health. The candidate should have worked in similar capacity for about 7 years in an organisation of repute. Interested candidates may send their resume to our General Manager at gm@abcl.com within 10 days.

SITUATION WANTED
Santosh Patil, graduate Computer Engineer from IIIT, Gwalior having an experience of 7 years in an MNC at Hyderabd, wants to shift to his home town Pune. Humility, creativity and teaming are my key strengths. Salary negotiable. Ready to join in one month time. Please contact +91543xxx and sp@gmail.com.

FOR SALE
Available for immediate sale is a five year old 2 BHK flat in Apex Apartments, Vikaspuri, West Delhi. The house is equipped with modern furniture and modular kitchen. School, market, hospital and metro station are within 1 KM to the society. Apartment has 100% power backup and adequate water supply. Price negotiable. Please contact +917865xxx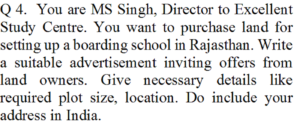 FOR PURCHASE
Excellent Study Centre wants to establish a boarding school in rural area of Rajasthan. We require a land of about 5 hectares. The land should be within 25 KM radius from any district headquarter. Interested owners of land can contact our director MS Singh on +916754xxx for a meeting at our head-office located on MI Road, Jaipur.

MISSING
My grandmother Sushila, age about 75 years is missing since last three days. She had gone alone for a walk in the morning to the New Park, Kanpur. She was wearing a red saari and no ornaments. Any person who finds her or gives correct information will be suitably rewarded. Please inform on +91873xxx

TOUR TO SWITZERLAND
Durga Travels, Kolkatta announces a tour to Switzerland during month of June. Total duration of the tour from Kolkatta and back is 8 days. Tour covers travel in economy class, stay in 4 start hotel, all local travel, veg food and site seeing. For details and advance booking please contact our manager at manager@durgatravels.com

MATRIMONIAL FOR BRIDE
Marriage proposals are invited for my brother, age 27 years, who is physically challenged and is working as IAS officer. Girl should be atleast a graduate and of caring nature. We would consider proposal of physically challenged girls also. Cast and religion no bar. Please send resume to xyz@gmail.com

FOUND
While travelling in a bus from Delhi to Bhopal, a bag was found. The bag contains some certificates, a wallet and some jewellery. The owner can contact undersigned within three days giving complete description of items to help establish ownership. Else I will deposit the bag with Bhopal Police. Please contact at +913456xxx
****