ARTICLE WRITING
(Example 5)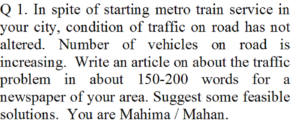 Traffic Problems
(By Mahaan, Class XII, ABC Public School)
17th July 20XX
About a month ago services of metro train commenced in our city. Our area was the first to get connected through this service. I was very happy about it. I thought that during next academic session our school bus would take less time.
But alas! My hopes were shattered on the very first day of session itself. They bus took five extra minutes. There was perceptible increase in number of vehicle – two wheelers as well as four wheelers. Thus the traffic was moving at a slower pace.
Situation was worse at traffic signals. Many people jumped the signal causing very dangerous situation for themselves and for others. Many were somehow trying to get their vehicles ahead of others.
Organisations should run buses for their offices just like a school runs buses for students. It would not only be cheaper but also considerably reduce traffic on road.
Some cameras should be installed at crowded places. With the help of registration number of vehicle we can find owner's mobile number. The video of violation can be sent to their mobile as a warning. Penalty for violation can be collected while renewing PUC..
I hope people and organisations would get wiser.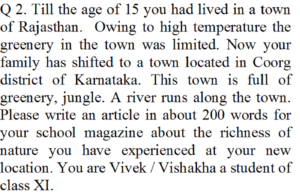 Coorg – A Green Land
(By Vishakha, Class XI)
I was born in a small town of arid region of Rajasthan, I completed my X from there and shifted to Coorg in this June.
Climate in Coorg is very much different. I had never imagined an area full of greenery. Within the city itself there are several parks. Just outside the town there are thick jungles. I visited one of them. It is full of variety of trees and flowers.
I also visited a coffee plantation which is about 20 KM from here. What a lovely picturesque site it was. Air was so cool, refreshing and full of fragrance.
A river is flowing through the middle of the town. A bridge across the river joins two banks of the river.
In my life I had not seen so much of greenery, flora and fauna and a river within the town. I am so happy to be in such nice ambience. I have described beauty of Coorg to all my friends and relatives. I have invited them to spend vacation with us.
****